Meet Caleb, he lives in Kagitarama, which is a under privileged area of Muhanga.
Example donation card the comes with every piece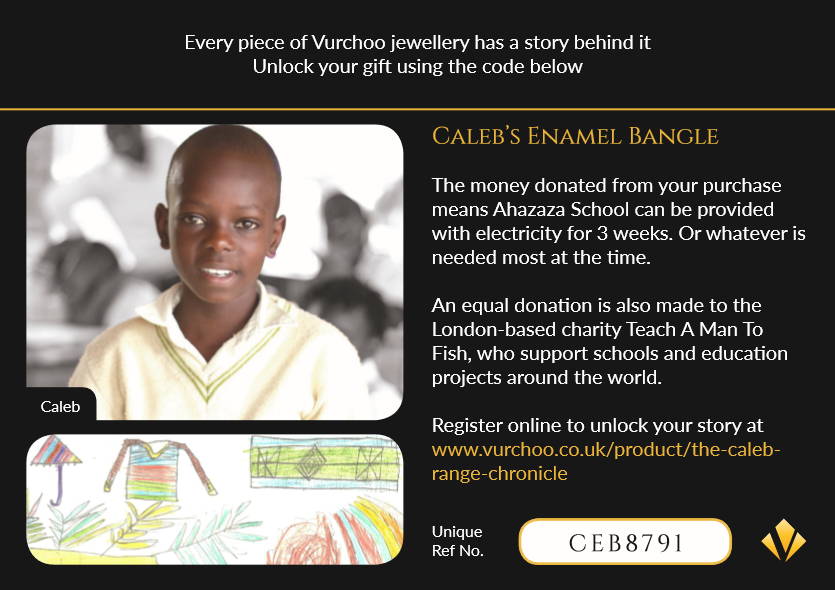 Caleb attends Ahazaza School and his favourite subject is Maths. In the break times, he likes to play football and when he is older, he says he wants to draw.
He lives with his mother, who sells second hand shoes, his father, who works in the local electrical shop, one brother and two sisters of which he is the oldest.
Ahazaza Independent School (the name Ahazaza means "future" in the local Kinyarwanda language) is located in Muhanga. Local parents from the surrounding areas and Raina Luff founded Ahazaza School in 2006. Raina came to Rwanda in 1995 as a jurist working for the United Nations and later became the Director of the school.
The school is unique and also a pilot school in Rwanda, it receives zero funding from the government and is non-subsidised, with no specific religious predisposition.
Teaching remains the focus and Ahazaza keeps it class sizes down to a maximum of 25 students. A quarter of the children, orphans and those from poor families, receive support and have their schooling free of charge. Unfortunately they cannot help every child, and sponsorship is hard to come by. With your help, Vurchoo can make the difference and give this opportunity to more children, and hand them a way to escape the ghettos.
Education is the only capital for those who have nothing
Class P2 were given paper and pencils and asked to draw something that means a lot to them.
The results were captivating and ranged from beautiful landscape scenes to stunning interpretations of still life.
Caleb expressed parts of his life to the world using images such as an umbrella, a jumper and different cultural patterns. Items we often overlook in our daily lives, but hold great significance to him.
Using different aspects of the drawing, a unique collaboration was formed and this stunning organic range was created.